Buzz Lightyear Costume and Craft Ideas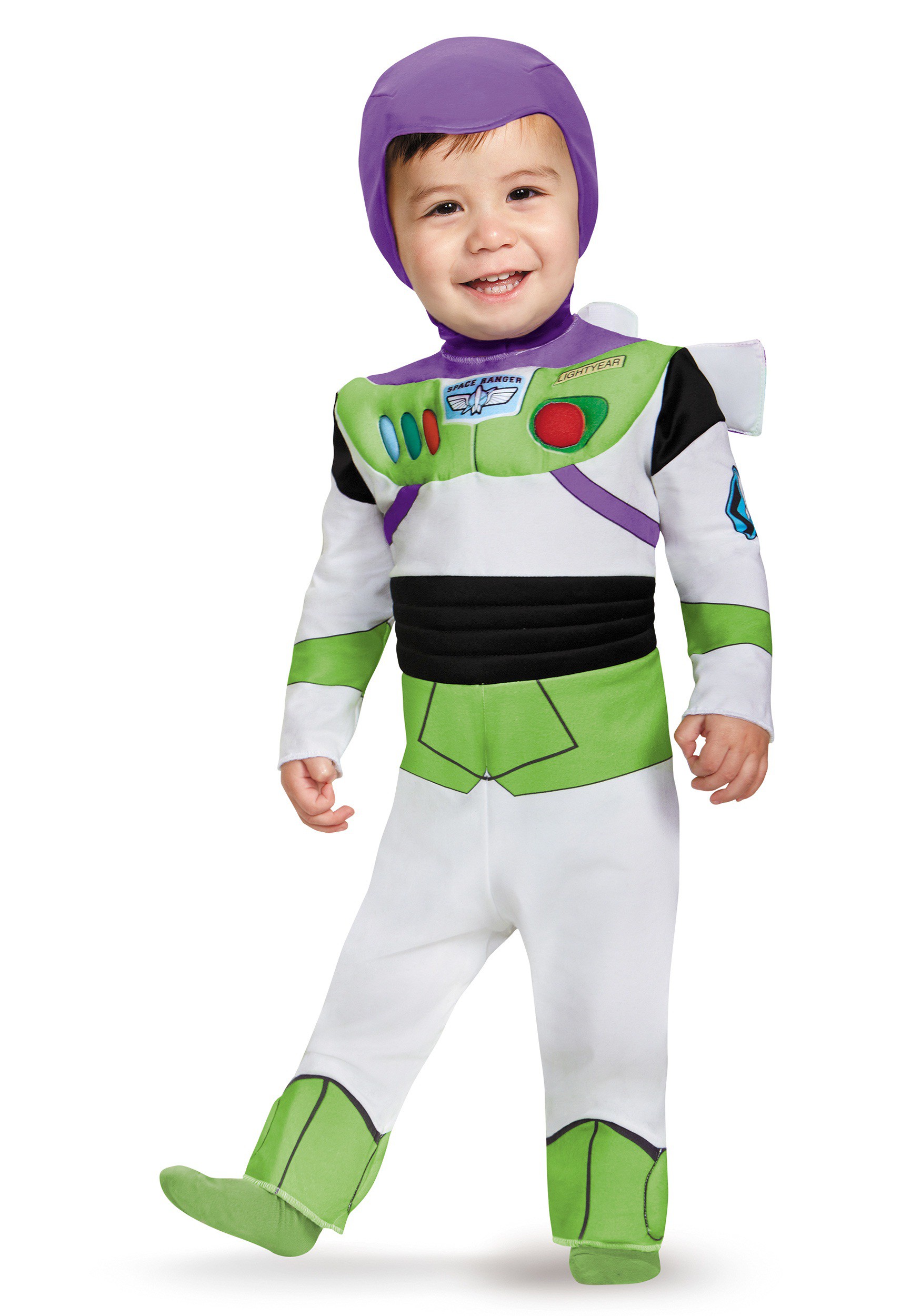 If your young boy is a fan of Disney and Pixar movies, a Buzz Lightyear costume
is an excellent way for them to celebrate Halloween. This popular spaceman character
is a big hit with this age group and his futuristic costume is both eye-catching and appealing.The character of Buzz Lightyear
made his first appearance in the popular Disney/Pixar production – Toy Story in 1995. He quickly became one of the most recognizable characters from the movie and his catchphrase "To infinity… and beyond!" became an extremely quotable phrase. Since the initial Toy Story movie, Buzz Lightyear has been featured in his own television show – Buzz Lightyear
Of Star Command and two Toy Story sequels – Toy Story 2 in 1999 and Toy Story 3 in 2010. As a result, he's become a firm favorite with young boys and is a Halloween costume choice that they'll look forward to wearing on October 31st.
There are plenty of classic and 'Deluxe' Buzz Lightyear costumes on the market. The classic costumes generally feature a full body jumpsuit with a black, green, purple and white design that resembles Buzz Lightyear's iconic spacesuit along with a purple hood. The 'Deluxe' costumes feature a similar jumpsuit design but with added definition and padded areas which give the spacesuit a more detailed look and feel. In addition to this, they come with a set of detachable wings and a Buzz Lightyear facemask which allow your child to replicate the animated hero in style.
Both the classic and
'Deluxe' Buzz Lightyear costumes
can be completed with a range of stylish accessories. One of the most advanced accessories available is a Buzz Lightyear Light Up Helmet which has an adjustable, drop down plastic face shield along with green and red flashing LED lights and foam padded earphones. Some of the other fantastic Buzz Lightyear accessories include
Buzz Lightyear gloves
(which feature a matching green, purple and white design) and the
Buzz Lightyear Blaster Gun
(which has a blue, green, purple and white design and fires soft foam balls).
Since
Buzz Lightyear
is part of the Toy Story franchise, one great way for your young boy to get maximum enjoyment out of the costume is to wear it as part of a group Halloween costume with his friends. If you arrange with your friend's parents for them to dress up as Woody, Rex, Mr Potato Head or any of the other characters from the Toy Story movies, they'll all be able to have hours of fun trick or treating while dressed as the Toy Story gang.
Launch yourself into Infinity…and beyond with this Buzz Lightyear space suit. Great for everyday play! Ages 3 and up
Look just like
Buzz Lightyear Full outfit
included
List Price:
$ 22.99
Current Price: $ 16.50
Disney Light-up Buzz Lightyear Helmet
Light-up the dark matter in our galaxy with this Buzz Lightyear Helmet for Boys. Face shield drops down and snaps into place, triggering an LED light show on the helmet grid. Makes a great accessory for his Space Ranger costume.